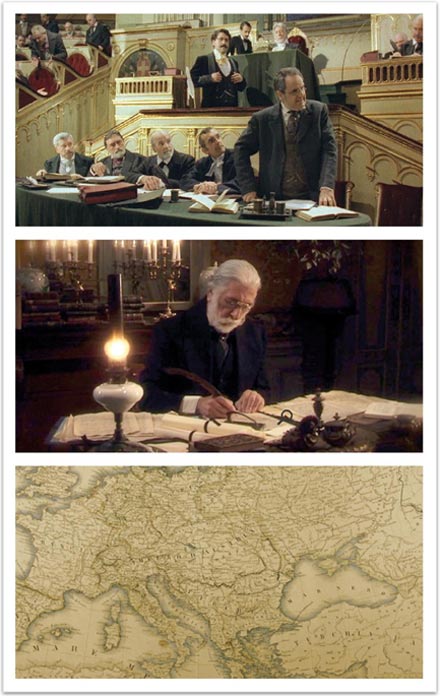 The Museum visit is enriched by the possibility of viewing films made specifically to help the public understand the themes of the European and Italian Risorgimento.
Voices and faces of the Subalpine Parliament
The films provides a reconstruction with actors and extras of three parliamentary sittings of particular importance in the Chamber of Deputies: the debates on the Siccardi law, on the construction of the Fréjus tunnel and on the annexation to the Kingdom of Sardinia. The speeches by the deputies are taken from the minutes of the Subalpine Parliament. Equally precise are the references to the faces of the politicians of the time, their clothing and the way the debates were conducted.
Duration: 30 min. – Cinema Room
Turin, Piedmont, Italy, Europe. 1814-1861
The film, with actors, animations and original music, gives a reading of Italian unification as seen from Turin and Piedmont, but with a broad international reach. It gives a precise historical and cultural representation of the period, narrated through contemporary texts, and accompanied by images of paintings, prints, objects and maps that illustrate the various events. The form of narration is simple yet rigorous and the multimedia support is very easy to use.
The video shown is an abridged version of the original 170' feature film, available for purchase at the ticket office.
Duration: about 45 min. – Cinema Room
Thematic films and in-depth presentations
Along the route of the visit it is possible to enjoy 15 thematic films and 7 in-depth presentations. These are stories in images: reproductions of paintings, lithographs, period objects, photographs and documents acquired from around one hundred European museums represent the main 19th century nation–building processes that occurred in the same decade during which Italy was being constructed. The visitor will thus be accompanied on a journey of discovery through the French revolution and the British industrial revolution, and then invited to reflect on the nationalities in the Germanic confederation and in the Hapsburg and Ottoman empires, in addition to the European revolutions in France, Belgium and Poland. The revolutionary explosions all over Europe in the years around 1848 will be examined and the events in the various parts of Italy will be seen. In the last thirty years of the century, the focus turns to the Bohemian, Hungarian, German, Bulgarian, Rumanian, Serbian, Polish and Baltic nations. This overview will constitute the real innovation in European terms of the Museum itself.
Duration: 90 min.– Museum route